Perfecting the Restaurant/Gallery Concept
We were invited to create a permanent photography installation in the new restaurant created by Cindy and Rolf Nelson, Lumber Yard, located in Amherst, MA. We've worked with Cindy and Rolf for many years, displaying "Moments of Grace" at their famed Sconset Café on Nantucket.
This newest project, a modern day bistro located in the Historic District of Amherst, was built entirely from raw space. Cindy and Rolf designed the interior and lighting to highlight Ben's photography installation. Tracks were installed with individual lights for each photograph. Paint colors were chosen to work with the tonal range of the black-and-white photographs.
We worked closely with Cindy to select photographic images that reflect the philosophy and mission of the restaurant; people connecting , sharing their love and spirit for one another.
Here are some shots of the final installation: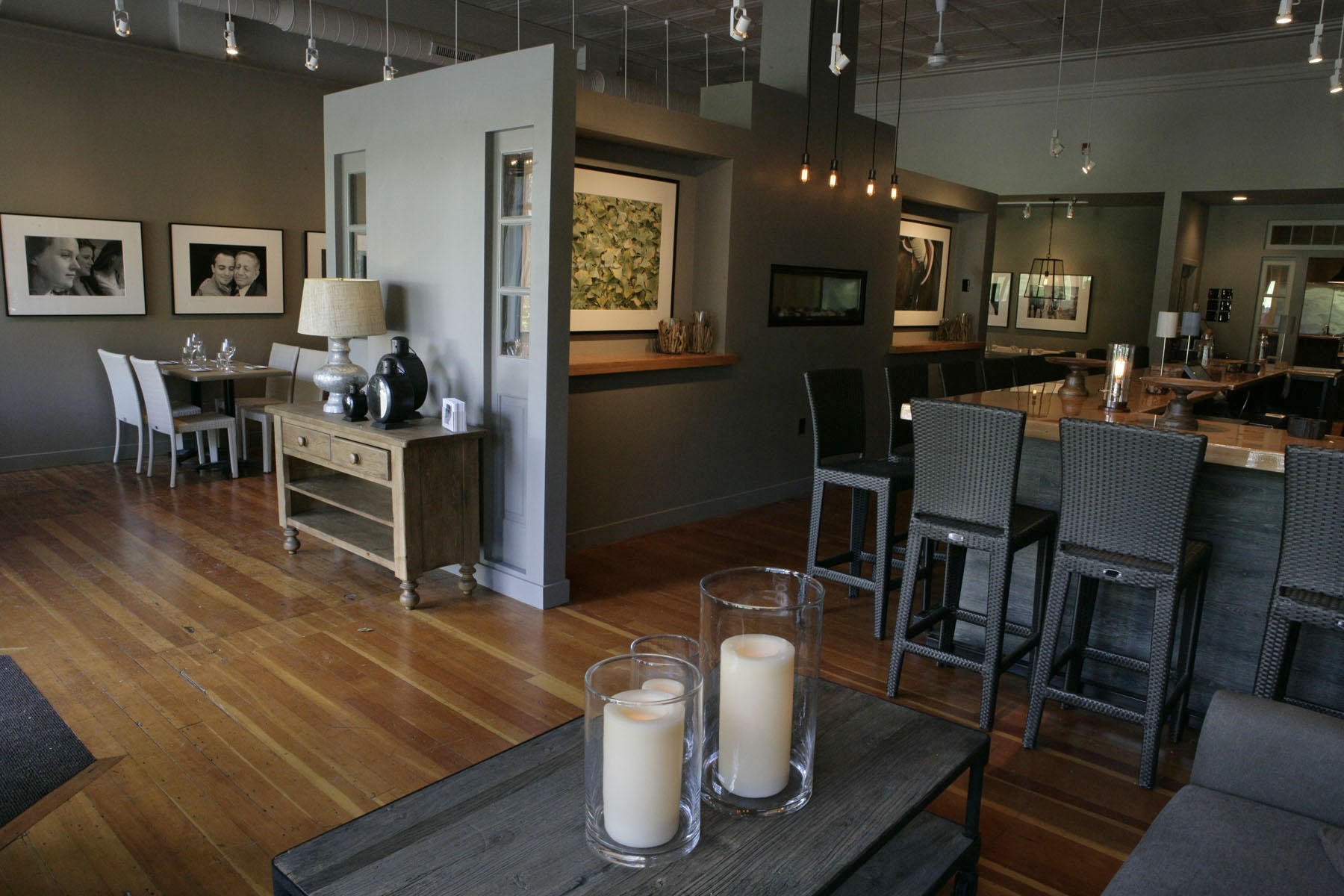 Several days after our installation on October 5, Rolf emailed to say "the buzz is growing… people have been blown away by the space and gorgeous photographs on the walls!!!!"
When we put the photos up the whole restaurant came together. Cindy and Rolf had been waiting for us to arrive and hang before setting up the tables. Cindy left the restaurant on her toes she was so excited. She was dancing out the door.
Rolf stayed up late assembling tables so we could photograph the space the next morning. Cindy set the tables and added her design accents so they looked ready for business.
The tonal range in the restaurant is beautiful with a layering of three warm and cool wall tones; Flax, Stone and Slate. The Flax walls accent the black frames and white mats, pulling out the tonal range of the images. The colors of the space embrace the black-and-white photos. The place looks hip.
Lumber Yard opens it's doors to the public on November 3. The excitement and anticipation of a new happening place in Amherst has the town a buzz!
Lumber Yard
383 Main Street
Amherst, MA 01002
413.230.4333
http://www.lumberyardamherst.com