It was our first burn. They called us virgins. We were the newbies at DeMentha, a Burning Man theme camp that hosts daytime on-playa dance parties serving up mojitos, shade, mist, music and a warm welcome to anyone who visits. This tight knit "family" of members are mostly from the SF Bay area. If you've been to Burning Man before, the camp has been located at 3 & E forever. We were introduced to DeMentha by Joe and Ashleigh, our sponsors and guides on the Burning Man experience.

Approaching the man. Each year the man is a different structure and usually out in the open. This year he was enclosed in a pavilion. That's a shrimp mutant vehicle driving by.
We had heard about the dust storms. They come up out of nowhere so you don't want to leave camp without your goggles and mask. We were excited to see one approaching us while out of the city in the open desert.
The wind was so strong it knocked over our bikes, the sand started to sting. Somehow Ben's camera survived. When we returned it went to Canon for a "deep clean".
There's something about a man with a tattoo in the desert.
Our sponsors at Camp DeMentha. Thank you Joe and Ashleigh.
One of the 10 principles of Burning Man is gifting. Unconditional, with no expectation of a return. Camp DeMentha's contribution to the community was mojitos, music and misting in our party tent, 1-6pm every day.
Our six bars had lines like this every day from 1-6pm.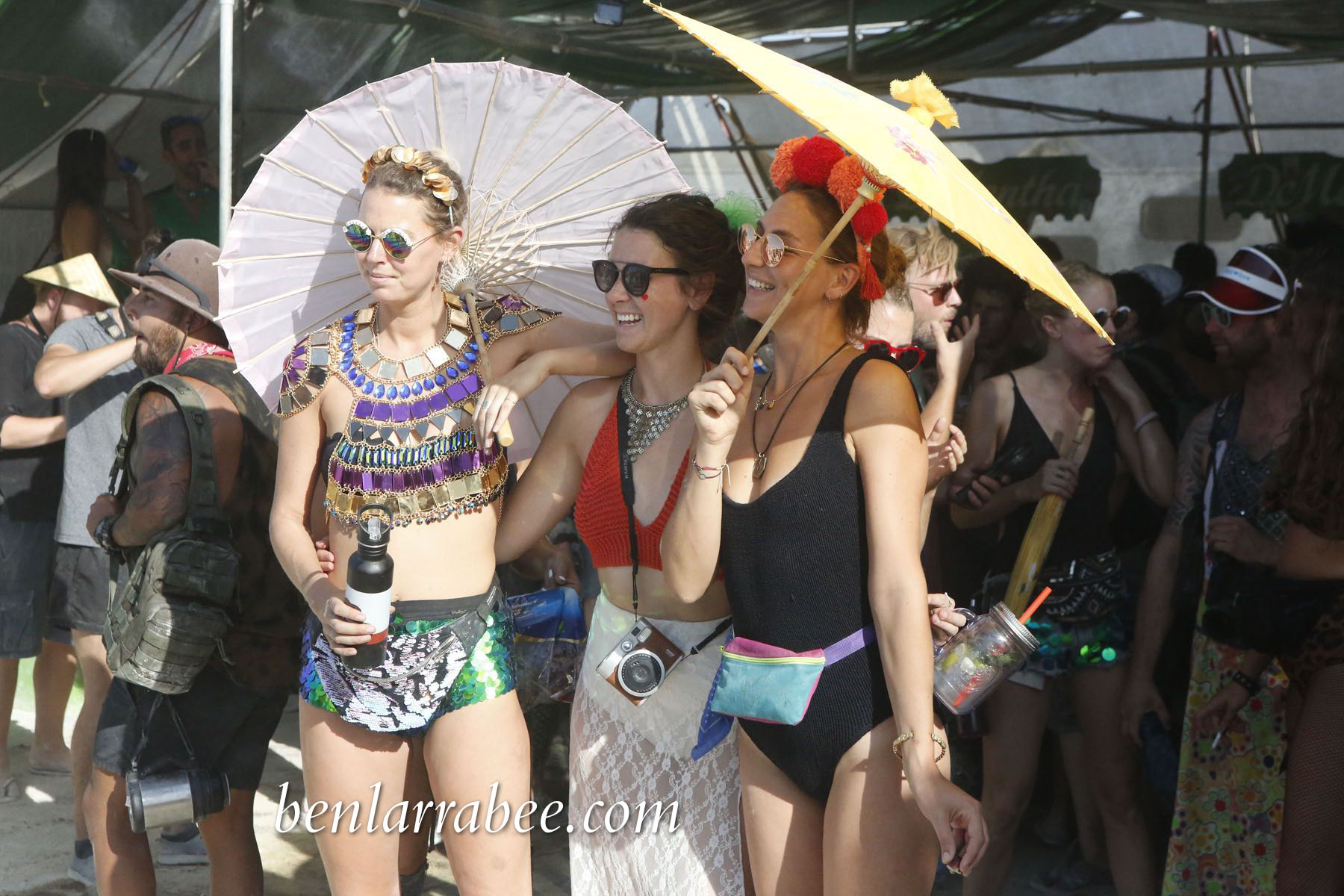 Lovely burners at the party.
Twice a day we ate together as a camp. Our camp duties included cooking a meal at least once during the week, either brunch or dinner, for 24 people. Every morning and night three teams of two people cooked in the kitchen tent to feed all 70 of us.
Camp DeMentha cooking/dining structure. Constructed by camp members during "build week" before BM started.
Camp DeMentha group portrait plus one streaker.
At night things light up, including people who wear lights so they can be seen by mutant vehicles, cyclists and any form of moving vehicle. The advice we kept getting before coming was "don't be a darkwad". In other words, make sure you've got lights on your body so you don't get run over. This alligator is a mutant vehicle.
While riding bikes our first night out on the playa, we came across this 35 foot tall musical sculpture and cabernet stage celebrating music from a bygone era. We think it was around 2:30am.
Lots of bikes and lots of Porta potties. At BM everyone rides bikes. It's the only way to get around and see stuff (unless you can hitch a ride on an art car).
Burners decorate their bikes and at night light them in the most creative ways. Since there's no light on the playa it's essential. Remember you don't want to be a "darkwad".
PS the porta potties were clean and very well serviced. One of the many things the BM organization does well.
Mutant vehicles were everywhere on the playa and streets of Black Rock City. They are unique, motorized creations that show little or no resemblance to their original form, or to any standard street vehicle. They are radically, stunningly, (usually) permanently, and safely modified from their base vehicle. We saw everything from a shrimp, boat, alligator, PAC Man, pirate ship, flame throwing dragons, an airplane.
Mutant Vehicles are integral to the culture and community at Burning Man. They contribute to the surreal, visual experience, especially at night when they are lit and their music is booming.
Bug encounter on our way to Camp DeMentha via the local bus.
An exhilarated Trudie responding to roaring jet fighter planes buzzing Burning Man over the desert. Trudie was convinced it was for her alone. She was in tears.
Kinetic art on the playa.
One of our next door neighbors was the busy Skinny Kitty Tea House.
Meanwhile back at camp trying to stay cool in the record 100 plus daytime temps.
Notice the Box of Shame. Don't leave anything lying around camp otherwise it ends up here. One of our campmates tending to water duty on Tutu Tuesday.
Now we know what our campmate meant when he said "see you in the City of Dust". Sweeping out the playa from our RV.
Desert diamonds (frozen grapes) kept us cool in 100 plus degrees. Totally refreshing and a great discovery, thanks to Ben.
Some burners bring their kids. We saw families on their bikes exploring the playa around the man. One father with a three month old burner in a stroller stood outside our party tent waiting for his wife to return with a mojito. The baby sucked on his bottle (with formula), staying hydrated.
The other Ben at camp DeMentha.